Note
The documentation you're currently reading is for version 3.5.0. Click here to view documentation for the latest stable version.
StackStorm HA Cluster in Kubernetes - BETA¶
This document provides an installation blueprint for a Highly Available StackStorm cluster based on Kubernetes, a container orchestration platform at planet scale.
The cluster deploys a minimum of 2 replicas for each component of StackStorm microservices for redundancy and reliability. It also configures backends like MongoDB HA Replicaset, RabbitMQ HA and Redis Sentinel cluster that st2 relies on for database, communication bus, and distributed coordination respectively. That raises a fleet of more than 30 pods total.
The source code for K8s resource templates is available as a GitHub repo: StackStorm/stackstorm-ha.
Warning
Beta quality! As this deployment method available in beta version, documentation and code may be substantially modified and refactored.
---
This document assumes some basic knowledge of Kubernetes and Helm. Please refer to K8s and Helm documentation if you find any difficulties using these tools.
However, here are some minimal instructions to get started.
The StackStorm HA cluster is available as a Helm chart, a bundled K8s package which makes installing the complex StackStorm infrastructure as easy as:
# Add Helm StackStorm repository


helm repo add stackstorm https://helm.stackstorm.com/

helm install stackstorm/stackstorm-ha

Once the deployment is finished, it will show you the first steps to get started working with the new cluster via WebUI or st2 CLI client: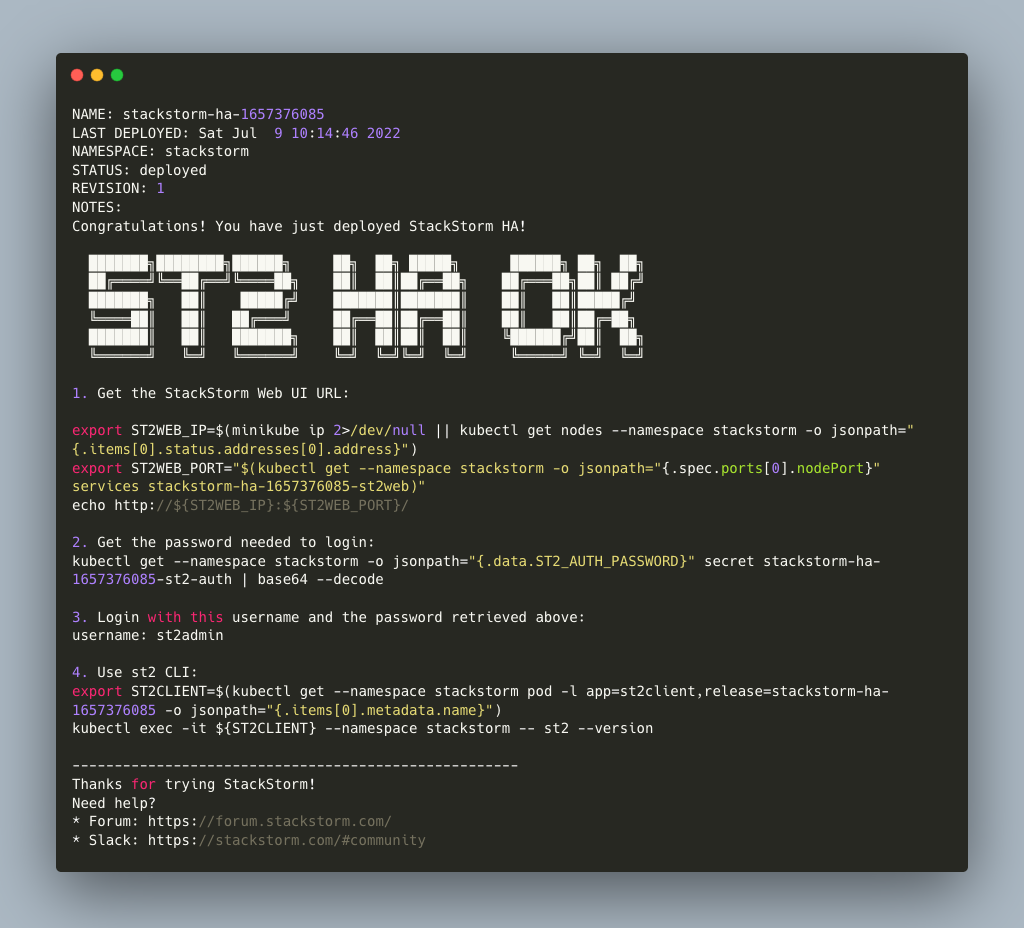 The installation uses some unsafe defaults which we recommend you change for production use via Helm values.yaml.
Helm package stackstorm-ha comes with default settings (see values.yaml). Fine-tune them to achieve desired configuration for the StackStorm HA K8s cluster.
Note
Keep custom values you want to override in a separated yaml file so they won't get lost. Example: helm install -f custom_values.yaml or helm upgrade -f custom_values.yaml
You can configure:
number of replicas for each component

st2 auth secrets

st2.conf settings

RBAC roles, assignments and mappings (enterprise only for StackStorm v3.2 and before, open source for StackStorm v3.4 and later)

custom st2 packs and its configs

SSH private key

K8s resources and settings to control pod/deployment placement

Mongo, RabbitMQ clusters
Warning
It's highly recommended to set your own secrets as the file contains unsafe defaults like SSH keys, StackStorm access credentials and MongoDB/RabbitMQ passwords!
After making changes to Helm values, upgrade the cluster:
helm repo update
helm upgrade <release-name> stackstorm/stackstorm-ha

It will redeploy components which were affected by the change, taking care to keep the desired number of replicas to sustain every service alive during the rolling upgrade.
For StackStorm versions earlier than 3.3, Extreme Networks provided a commercial version of the StackStorm automation platform (EWC). EWC added priority support, advanced features such as fine-tuned access control (RBAC), LDAP, and Workflow Designer.
As these enterprise features were donated to the Linux Foundation, RBAC, LDAP and Workflow Designer components are now available in StackStorm Open Source since 3.4. The Workflow Designer is integrated into the StackStorm Web UI, and RBAC and LDAP components are installed (but not configured) with the default installation.
Save custom Helm values you want to override in a separate file, upgrade the cluster:
helm upgrade -f custom_values.yaml <release-name> stackstorm/stackstorm-ha

Get all logs for entire StackStorm cluster with dependent services for Helm release:
kubectl logs -l 

release

=

<release-name>

Grab all logs only for stackstorm backend services, excluding st2web and DB/MQ/redis:
kubectl logs -l 

release

=

<release-name>,tier

=

backend

To follow the stateless model, shipping custom st2 packs is now part of the deployment process. It means that st2 pack install won't work in a distributed environment and you have to bundle all the required packs into a Docker image that you can codify, version, package and distribute in a repeatable way. The responsibility of this Docker image is to hold pack content and their virtualenvs. So the custom st2 pack docker image you have to build is essentially a couple of read-only directories that are shared with the corresponding st2 services in the cluster.
For your convenience, we created a new st2-pack-install <pack1> <pack2> <pack3> utility and included it in a container stackstorm/st2packs that will help to install custom packs during the Docker build process without relying on live DB and MQ connection.
For more detailed instructions see StackStorm/st2packs-dockerfiles on how to build your custom st2packs image.
Please refer to StackStorm/stackstorm-ha#install-custom-st2-packs-in-the-cluster Helm chart repository with more information about how to reference custom st2pack Docker image in Helm values, providing packs configs, using private Docker registry and more.
Note
There is an alternative approach, - sharing pack content via read-write-many NFS (Network File System) as High Availability Deployment recommends. As beta is in progress and both methods have their pros and cons, we'd like to hear your feedback and which way would work better for you.
Ingress is worth considering if you want to expose multiple services under the same IP address, and these services all use the same L7 protocol (typically HTTP). You only pay for one load balancer if you are using native cloud integration, and because Ingress is "smart", you can get a lot of features out of the box (like SSL, Auth, Routing, etc.). See the ingress section in values.yaml for configuration details.
You will first need to deploy an ingress controller of your preference. See Additional Controllers for more information.
For HA reasons, by default and at a minimum StackStorm K8s cluster deploys more than 30 pods in total. This section describes their role and deployment specifics.
The Community FOSS Dockerfiles used to generate the docker images for each st2 component are available at StackStorm/st2-dockerfiles.
As this deployment method new and beta is in progress, we ask you to try it and provide your feedback via bug reports, ideas, feature or pull requests in StackStorm/stackstorm-ha, and ecourage discussions in Slack #docker channel or write us an email.